The Blackhearts Fencing Club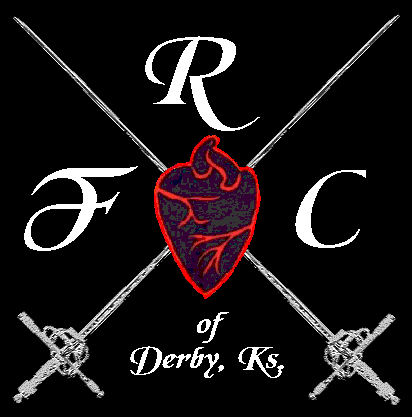 This site belongs to the Blackhearts Fencing Club of Derby, Kansas. Please feel free to follow the links to our pages. We share the links in RED with our sister club in Hutchinson, Ks. We do fencing and reenactments for the renaissance period covering the 1300s or 14th century, 1400s or 15th century, 1500s or 16th century, 1600s or 17th century.
Some of the other things we do are;
archery, armor, art, bardic, camping, chainmaile, chivalry, club directory, combat, costumes, crafts, customs, demos, dueling, education, events, faires, families, fantasy, fencing, festivals, fun, heraldry, history, leather work, medieval, melees, metal work, music, period acting, pictures, reenactment renaissance role playing, sewing, singing, swordplay, swords, tournaments, weapons.
If you wish to contact us these are the people to contact;

Cecil Purvis
Club President
316- 943-2189

or
Jim Shannon II
The Paisley Pirate, Captain Seamus O'Shannon
Captain Marshall
at
316-788-4186
or E-mail the B. H. F. C. Derby
c/o Captain O'Shannon
Thanks, The Blackhearts Fencing Club.
Please pardon the mess, we are rebuilding the site!
Bear with us!

View My Guestbook
Sign My Guestbook

1300s, 1400s, 14th century, 1500s, 15th century, 1600s, 16th century, 17th century, act, actors, archery, armor, arts, bardic, bards, blades, camping, celt, celtic, chainmaile, chivalry, club directory, clubs, combat, costumes, crafts, crest, crossbows, customs, daggers, demos, dueling, duello, duels, educational, elves, england, english, epees, europe, european, events, faires, fairs, families, fantasy, fence, fencers, fencing directory, fencing, festivals, foils, fops, for hire, forge, france, french, fun, heraldry, highlander, hilts, historical, history, irish, ireland, katanas, kendos, leather work, lessons, longbows, longswords, medieval, melees, metal work, mideval, midevil, music, period acting, period, pictures, rapiers, re enactments, reenactments, renaissance, role playing, royals, royalty, sabers, sca, scabbards, schleagers, scottland. scott, scottish, sewing, shields, shinais, shortswords, singing, society of creative anachronism, songs, spain, spanish, swashbuckler, swashbuckling, swepthilts, swordplay, swords, three musketeers, tournaments, vikings, weapons